"Times Three is a spectacular vocal performing group with outstanding arrangements and great stage presence. Their vocal blend and texture is amazing and their arrangements are first rate. Times Three projects great style and energy to their audience. This is a proven winning concert program that the audiences love!"
--Judith Morse
Conductor
Edison Symphony Orchestra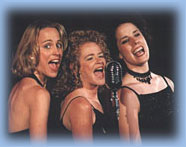 Times Three owns and provides all orchestral scores and parts.
There are no rental fees.
Scores and parts arrive on time and ready to play.

Most arrangements have been commissioned for exclusive use by Times Three and are scored for full symphony orchestra:
3 flute (flute 2 & 3 dbl. picc.), 2 oboe (oboe 2 dbl. english horn), 2 clarinet, 2 bassoon, 4 horn, 3 trumpet, 3 trombone, tuba, harp, timpani, drum set, percussion (bells), strings
A few arrangements, marked below with an *, are scored for smaller ensemble.

SING, SING, SING
BOOGIE WOOGIE BUGLE BOY
SENTIMENTAL JOURNEY
I'LL BE SEEING YOU
DON'T SIT UNDER THE APPLE TREE WITH ANYONE ELSE BUT ME
IT DON'T MEAN A THING (IF IT AIN'T GOT THAT SWING)
MOONGLOW *
A NIGHTINGALE SANG IN BERKELEY SQUARE
I'M BEGINNING TO SEE THE LIGHT
AND THE ANGELS SING
DON'T GET AROUND MUCH ANYMORE *
LONG AGO AND FAR AWAY
THIS IS THE ARMY MR. JONES *
THEY'RE EITHER TOO YOUNG OR TOO OLD
PRAISE THE LORD AND PASS THE AMMUNITION! *
WHEN THE LIGHTS GO ON AGAIN ALL OVER THE WORLD
SATURDAY NIGHT IS THE LONELIEST NIGHT OF THE WEEK
THE WHITE CLIFFS OF DOVER
AC-CENT-TCHU-ATE THE POSITIVE
IT HAD TO BE YOU
OVER THE RAINBOW


Cabarets are performed with either solo piano or piano/bass/drum.
Times Three's cabaret repertoire includes the songs listed above, as well as dozens of classic songs from the great American songbook.

Times Three also presents concerts including opera or light opera classics. Contact Times Three for repertoire list.